InserTech Experience
Over 30 years of experience and continuing education in mailroom equipment repair and service. Maintaining, trouble shooting and repairing of all types of mailroom equipment including folders, tabbers, swing arm inserters, cutters and banders.
Specializing In
Maintenance services for all types of swing arm inserters. We are a third party provider of service for most Bell & Howell, Sensible Technologies and other related systems. Our technicians are highly trained, very friendly and customer oriented. We work hard to keep your equipment running smoothly. Best service in inserter repair.
Response Times
Call backs within 30 minutes and average response on site within 2 to 4 hours in most service areas.
Service Agreements
Contracts to fit every customer, from basic time and material calls to full maintenance contracts.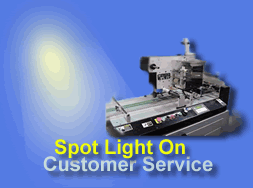 InserTech prides itself on providing quality and timely service with quick call back response times. On site services within 4 hours. Friendly customer oriented technicians.
"Our goal is to satisfy 100% of our customers" Dale Padfield
Dale Padfield
315 E.Greenwood St.
Jefferson, WI 53549
Phone: 920.723.3066
Email: dgpadfie@yahoo.com